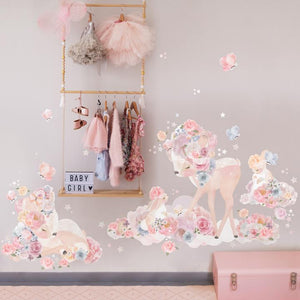 PLEASE NOTE: All our Schmooks products will be sent on August 21st while the magical people at Schmooks take a break 🩷
Schmooks wall stickers - Woodland
Schmooks wall stickers are removable, reusable and even scrunchable! Made with a beautiful soft fabric finish, they are PVC free and not vinyl. Super easy to apply and perfectly safe to use on your walls, the individual pieces are easily removed from the backing paper and can be arranged and rearranged on the walls without causing any damage (perfect for renters!)
The wall stickers are a fun and interactive way to add a beautiful pop of colour and magic to your little ones room or special space. They can be moved around many times so you can have lots of fun rearranging and redecorating the room.
Contents:
1x Deer standing with bunny (75cm x 70cm)
1x Deer sleeping (62cm x 49cm)
1x Bunny sleeping (34cm x 33cm)
1x Medium rose bush (19cm x 24cm)
1x Small rose bush (15cm x 16cm)
5x Single roses 
8x Butterflies
10x Rosie cheeks stars
Smaller elements - Tiny stars in assorted colours
Features:
Removable, sticks to almost any surface, instant wow factor for decorating, beautiful fabric-like finish, PVC free, Australian made.
Shipping:
Your wall stickers will be especially made for you and posted withing 10 business days. 
Gorgeous & excellent quality
I repositioned these decals so many times & they were super easy to move around and reapply. Easy to do on my own too
Hi Kelly, I'm so happy to hear you loved your new decals! Thanks so much for sharing your review and we hope to see you again soon.