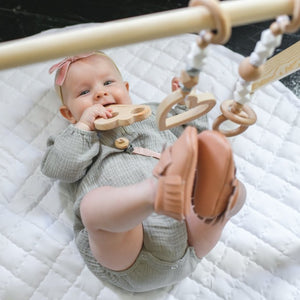 Baby beechwood play gym and accessories combo - PINK HEART
Beautiful handcrafted play gym and accessory combo designed and handcrafted in Australia. A treasured gift idea and beautiful addition to the nursery.
Designed with a developmental purpose for your little one, your baby will remain engaged and learning through play, while you enjoy that cuppa. Yep, the same one that's been reheated twice already and will most likely drink while folding the washing (hey, no judgement here mama!)
Your bundle includes: One LUXE BEECHWOOD PLAYGYM + 3 accessory toys.
- Hand painted by hand using safe, non-toxic materials, these A-Frame Play Gyms are the perfect way to entertain your little one. This package INCLUDES a play gym + 3 accessories
Colour: White with pink heart accessories

Please see the other listing for other colour/accessory combinations available
Play gym accessories are Safety Certified by the AS/NZSISO8124.1 standards, and made with BPA, PVC free materials.