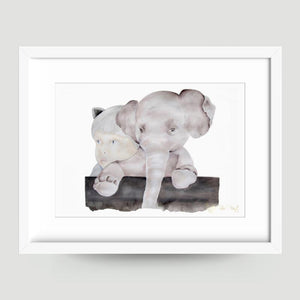 Little Elephant
Available in A3  
Blue. The land of Little Dreamers. Where time stands still. Where dreams and reality collide. Where baby elephants play hide and seek, big feet in long grass. Ready or not...here they come!
This print will feature a gold foil logo for an added touch of luxury. These beautiful art prints are made with love from original watercolour paintings.
Watercolour artworks are whimsical, soft and filled with make believe. Created with love for your littles by Little Rae Prints.