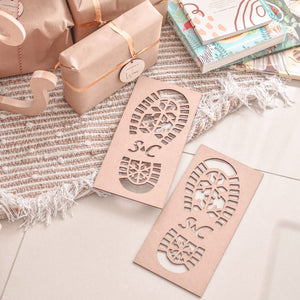 ***DELIVERY BY CHRISTMAS NOT GUARANTEED ON INTERNATIONAL CHRISTMAS COLLECTION ORDERS MADE AFTER 14 NOVEMBER 2022***   
Santa Clause Footprints stencil
Create magic on Christmas morning with Santa's footprints leading the way to the presents!
Add to your little ones Christmas morning memories and leave a trail of footprints and let their imagination run wild!
These Santa Claus Boot Stencils come in life size prints. 
How to use: Simply lay the stencil flat on the ground and sprinkle your choice of powdered substance, whether it be flour, baby powder or glitter to imitate magical footprints or snow from Santa's boots, the choice is yours!
Materials: Stencils are made from 3mm MDF 
Includes: This set includes 1 x set of life size boots. Powder not included. 
Free postage Australia wide - Shop now, pay later with Afterpay, Zip pay & laybuy available