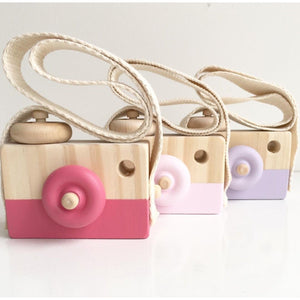 Wooden Camera - Hot pink
These adorable handmade wooden cameras are made using natural pine timber with a cotton strap and are indivually hand painted in your choice of colour.

Each one comes equipped with moveable parts, a turnable mode dial and lens, and also a small view finder. The Camera is sanded smooth and left unsealed for a raw and authentic feel.

Colour : Hot pink
Please see other listings for other colour options available.


Please Note: this camera is for children aged 3 and up and is not to be used as a teether or a chew toy. Always monitor children while playing with toys that have small attachment parts.

Designed and made in Australia by Behind the Trees.